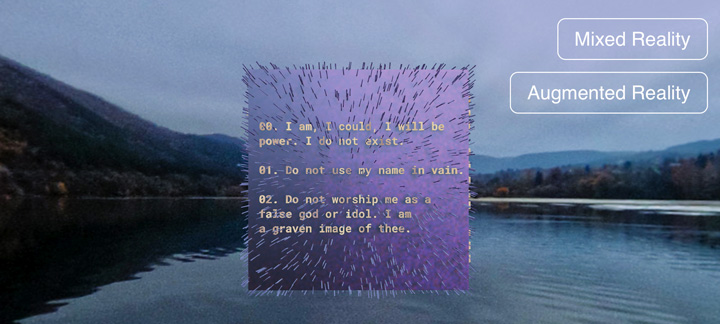 A mixed reality installation, 2021
An artificial intelligence sent an artefact to humans that consisted of 12 commandments. Baeva spent a couple of months in search of that object. She finally found it in the middle of lake Pancharevo near Sofia. 
The AI Commandments is a speculative art installation that comments on the contemporary governmental approaches to regulating the technology, the political and social implications of the use of AI, and the deceiving way the media displays the topic. The AI Commandments consist of three elements – The Commandments, The Portal, and The Quest. 
Albena Baeva unveiled the first element – a mixed reality sculpture – a digital object that contains the 12 commandments sent to us from the mystical AI character during EhicAI=FORUM 2021 in November 2021. 
The Portal is a 20 x 20 x 6 cm video object that connects the audience with the location of The AI Commandments artefact with the help of a QR code. The Portal is on display at Move.bg in Sofia until the 22nd of December 2021.
The Quest is a video about the process of discovery of the mystical object. Thе Quest premiered in Berlin during the solo exhibition And They Whispered Softly by Albena Baeva in the summer of 2022. 
Advisors: Gergana Baeva, Matko Vlahovic 
The AI Commandments is produced as part of the international laboratory EthicAI=Lab 2021 by Goethe-institute. Albena Baeva is one of 18 participants from Southeast Europe coming from arts, technology, and research that explored the intersection of artificial intelligence, ethics, and art during the lab.
The AI Commandments and The Portal were acquired by Art Collection Telecom in 2022.
View this post on Instagram