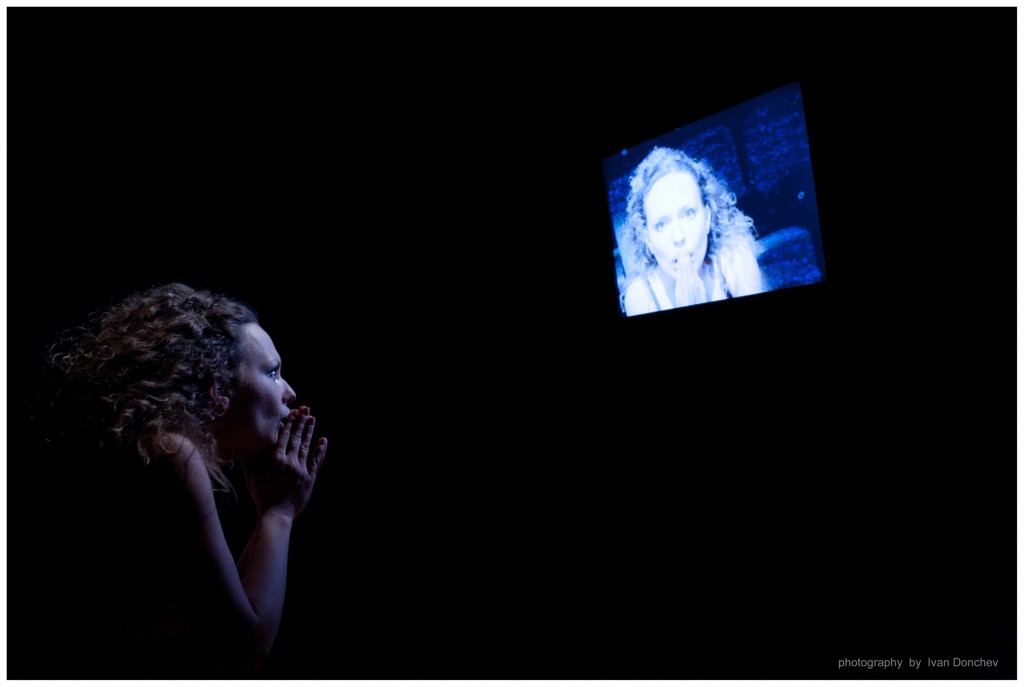 video for theatre performance, 2013
The Eyes of Others is a play written by the contemporary Bulgarian writer Ivan Dimitrov and staged by Mariy Rosen for the National Theatre Ivan Vazov in Sofia. The Eyes of Others is an absurdist play about anonymity, surveillance and global consumer culture. Two businessmen meet every weekday during lunch hour for years to talk about food, but never to actually eat. A third person has stood across the plaza and watched them every day for years as well.
Albena Baeva creates an interactive virtual partner to one of the characters in the play – the shopkeeper that sells underwear and leads an isolated introverted life in the confines of her shop. A set of a TV and a web camera create an alter ego to the shopkeeper. She is in constant connection with a TV screen that represents her inner voice and shows a real time recording of her. When her inner world is interrupted
by a sudden customer, the connection between her and her mirrored image on the screen is interrupted. Real time camera, pre-recorded videos and new recordings, made during the current performance, are mixed and modulated by live interaction to narrate the emotions of a subtle introverted personality.
The Eyes of Others has been nominated for both Bulgarian theatre awards Ikar and Asker. In 2013 it received a nomination for Best Stage and Costume Design for the Asker awards and in 2014 Aleksandra Vasileva (who plays the role of the shopkeeper) was nominated for the Ikar award for Best Supporting Actress.
picture by Ivan Donchev