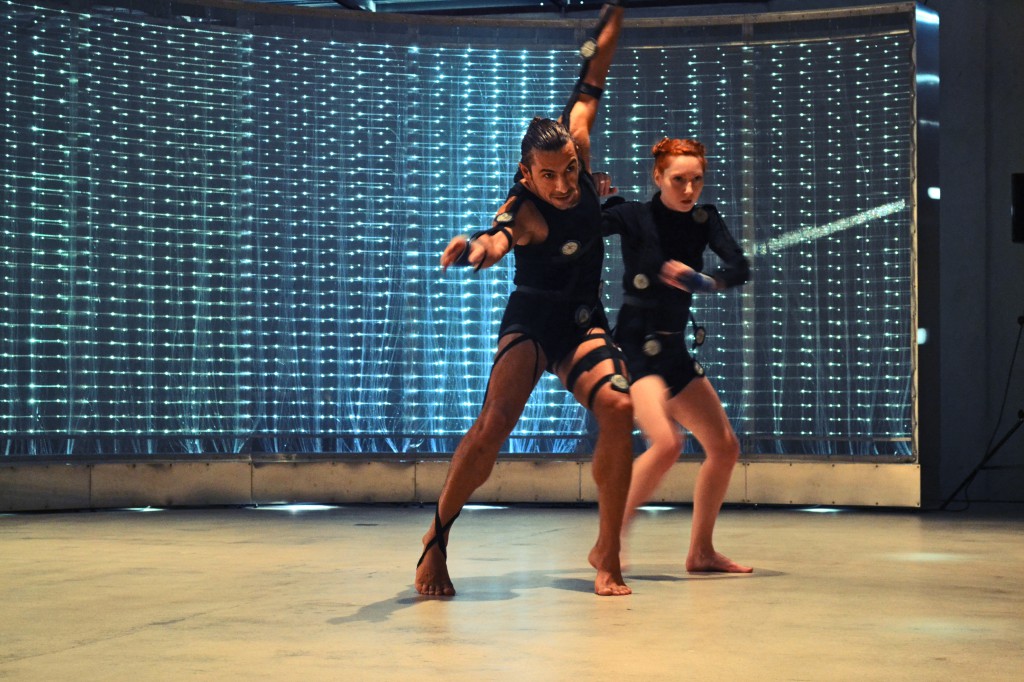 interactive dance performance with Runabout project, 2012
Azamen is a series of interactive dance performances that use a special pair of wireless sensor costumes that connect the movements of the two dancers with a computer. The bodies are thus turned into musical instruments that are capable of capturing sounds and words, playing them over and over again, modulating and transforming them until they create the perfect audio environment for their dance. A special custom made software connects the costume-sensors with a microphone and loudspeakers and enables the direct live interaction of body movement and sound.
Mariy Rosen directed the last version of the performance. The dancers and choreographers are Alexandar Mandzhukov and Sofia Georgieva.
The concept and the software are created by Albena Baeva. Teaming with the scenographer Petya Boyukova and the engineers from Robotev they create special sensor costumes – Mocapton – that connect wirelessly to the computer. Using these, the dancers record words and sounds, which they then modify during playback, composing the music for their performance while they dance.
The possibility to influence and control the environment provokes the dancers to incorporate these changes and modulations into their performance. The interaction between movement and sound develops thus as an additional parameter of the relationship of the two dancers. They can not only react physically to the dance of the other, but are capable to encircle them with their voice, take their words and throw them back at them – much in the way we use to do this in our everyday communication.
More about Runabout project and Azamen you can find here.
text by Gergana Baeva, photo: Petya Boyukova (at EMMA Museum of Contemporary Art, Finland)