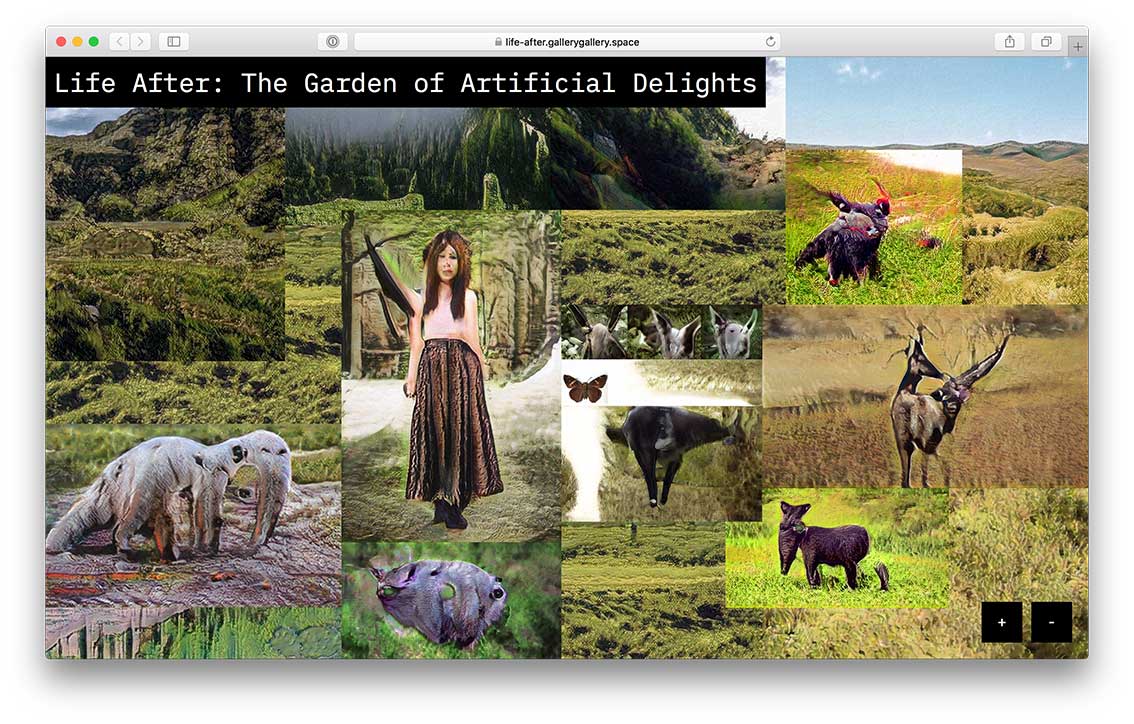 73 GAN generated images, 2020
Life after: The Garden of Artificial Delights can be seen at:
https://life-after.gallerygallery.space
Albena Baeva spent the last year training GAN and StyleGan AIs to generate images of outrageous bodies. Part-female, part-animal, these creatures appear to come from delirious fantasies of both heaven and hell, from mythological pasts and sci-fi futures simultaneously.
Her latest work, Life After: The Garden of Artificial Delights is a browser-based triptych that resembles a tapestry of such a fantasy world consisting of 73 AI-generated elements, populated by 32 trans-species creatures. The work reminds us of Hieronymus Bosch's apocalyptic The Garden of Earthly Delights, to which the title refers.
When you first open Life After: The Garden of Artificial Delights, a small fragment of the work fills the screen. Reloading the work reveals a different fragment each time. It is up to the visitor to explore this garden by clicking, dragging and zooming in and out. Exploring the work from the inside out, from detail to a wide shot, becomes a journey into a fictional world on the edge between digital mythology and autonomous artificial intelligence.
Life After: The Garden of Artificial Delights has been realised with support from the Solidarity in Culture programme, Sofia Municipality and the kind support of Telilab at Technical University of Sofia.