About Me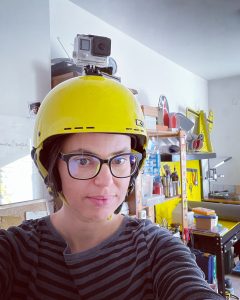 Contact me at:
email: albena.baeva@gmail.com
tel: +359886861102 address: ul. Elisaveta Bagryana 14, office 4
1111 Sofia
Albena Baeva works at the intersection of art, technology, and science. In her interactive installations for urban spaces and galleries, she uses ML and AI, physical computing, creative coding, and DIY practices.
Albena has two MAs; in Restoration and Digital Arts from the National Academy of Art in Sofia. She received an Everything is Just Fine commission from the Bulgarian Fund for Women (2019), won the international Essl Art Award for contemporary art (2011) and the VIG Special Invitation (2011).
Albena is a co-founder of Runabout project, a platform for new performance instruments, the studio for interactive design Reaktiv,  gallery Gallery and the sculpture AR park Ploshtadka.
Her work was shown in museums for contemporary art including Essl (Austria, 2011), EMMA (Finland, 2013), MCV Vojvodina (Serbia, 2015 and 2019), galleries and festivals for video and performance in Austria, Bulgaria, Czech Republic, Cyprus, Denmark, France, Finland, Germany, Hungary, Italy, Lithuania, Switzerland, Serbia, Turkey, Ukraine and the USA.
Selected Exhibitions and Performances
2022
And They Whispered Softly, solo show, c. by N. Hoyos and R. Schumacher, KVOST gallery, Berlin (DE)
Augmented Seattle, AR festival in public spaces, c. by Future Arts, Seattle (US)
Solidarity Machine, group show, c. by A. Baeva and G. Baeva, Projektraum Galerie M, Berlin (DE)
How to Deal with the World, group show, c. by N. Hoyos and R. Schumacher, Wilhelm Hallen #3, Berlin 
2021
AI Messages, solo show, Move.bg, Sofia (BG)
Alternative Reality, group show, Projektraum M Gallerie, Berlin (DE)
Us and Them, a group show, c. by Nathalie Hoyos and Rainald Schumacher, Kapana – City Gallery, Plovdiv (BG) 
Trust Territories, solo show in collaboration with Natalia Fuchs, Goethe-Institute Bulgaria, София (BG)
The Sheep, The Snake, The Bitch, and Their Pig, solo show, MKC, part of ПРВО ПО ЖЕНСКО festival, Skopje (MK)
Manifesto of Manifestos, performance with the participants of Avant-garde LAB 4, part of Фестиваль "Эстетика синтеза", Moscow, Jewish Museum and Tolerance Center, Moscow (RU)
Herbarium as a Place for Storing Ideas, group show, c. by Irina Batkova,  Sofia Arsenal – Museum for Contemporary Art (BG)
2020
In-contact, dance performance, choreographer Agnija Seiko, lighthouse Nida, N-zeme festival (LTU)
Life After: The Garden of Artificial Delights, online exhibition, Gallery Gallery (BG)
Quarantäne 13, online group exhibiton, Quarantäne Artist Collective (DE)
Everything's Right, group show, gallery Doza, Sofia (BG) 
2019
Dangerous Creatures Living in The Deep, gallery Gallery, Sofia (BG)
Perception of Contemporaneity – Universal Sea, c. by  Kojić (SRB) and  Loeser (DE), central exhibition for the festival Danube Dialogues, Museum of Contemporary Art of Vojvodina (SRB)
Electric Dreams, exhibition, gallery +359, Sofia (BG) 
Pavement Fragments, site specific installation, part of BFW project Sense of a city: Inclusive, Safe and Sustainable Plovdiv,  Proslav and Trakia neighbourhoods, Plovdiv (BG)
The Sheep, The Snake, The Bitch and Their Pig, solo exhibition, Contemporary space, Varna (BG)
2018
Beyond Words, Mardin Bienali, German Headquaters, Mardin (TR)
2017
Shifting Layers, group exhibition, Sofia City Art Gallery, Sofia (BG)
The Sheep, The Snake, The Bitch and Their Pig, solo exhibition, Credo Bonum Gallery, Sofia (BG)
Elysium, group exhibition, Noville, Berlin (DE)
Shopping and Fucking by Mark Ravenhill, directed by Mariy Rosen, video and interaction for theatre play, Mr. Bricolage (BG)
2016
                         Landscapes and Nudes, exhibition, Project space of ASU Art Museum, AZ (US)
                         Friendly Little Creatures, curatorial project for group exhibition, Sofia (BG)
                         Dior In Moscow, video for dance-theatre performance, Klaipeda (LT)
                         Peace To You, video for theatre performance, Sofia (BG)
2015
                       E.U.E.R.P.I, audio-visual performance, Our Lady Church, Copenhagen (DK)
Yordan Parushev Competition, group exhibition at Bulgarian Cultural Institute, Paris (FR)
The Baazar, presentation of Identity Move Residency Project, Prague (CZE)
WonderLab, group exhibition, Museum for Contemporary Art Voivodina, Novi Sad (SRB)
Only The Two of Us, documental exhibition, Suspacious space, Sofia (BG)
Being Post-Digital, group exhibition, Society of Artists Gallery, Plovdiv (BG)
2014
Archaeologies, solo exhibition, Vaska Emanouilova Gallery, Sofia (BG)
Living in Post-socialism, video art from Bulgaria, gallery Meno Parkas, Kaunas (LT)
Nominee Exhibition BAZA Award for Contemporary Art, Sofia City Art Gallery, Sofia (BG)
What If, solo exhibition, Contemporary Space Gallery, Varna (BG)
Sudden Streets, performance, Runabout project, Sofia, Varna, Plovdiv, Veliko Tarnovo, Gabrovo (BG)
2013
MiReLa, interactive installation for public space, with studio Reaktiv, city centre, Sofia (BG)
The Eyes of Others, interactive video for a theatrical performance, Ivan Vazov National Theatre, Sofia (BG)
Azamen, interactive dance performance, Runabout project, Dimanche Rouge Festival, EMMA, Espoo (FI)
2012
ARTeFACT, interactive video for a dance performance, Derida Dance, Sofia, Varna, Lymasol, Budapest, Chur (BG/CY/HUN/CHE/SVN)
The DNA of Words II, sound performance, Runabout project, Kornfeld Gallery, Berlin (DE)
Young Art from CEE, VIG Special Invitation exhibition, Ringturm, Vienna (AUT)
Hello World, group exhibition, Vaska Emanouilova Gallery, Sofia (BG)
2011
Essl Art Award CEE: Winners exhibition, Essl Museum, Klosterneuburg (AUT)
Baza Art Award: Nominees' Exhibition, Sofia City Gallery, Sofia (BG)
Transform, international group exhibition, Foreign Art Gallery, Sofia (BG)
2010
Bergeron Experiment, audio-visual performance, Runabout project, Digital Art Festival, Sofia (BG)
Universal meeting, site specific interactive installation for public space, city centre, Sofia (BG)
Imagine, short video, 3H+K Gallery, Pori (FI)
Up:Down, interactive installation, co-work with P. Boyukova,  Nights of the museums Plovdiv (BG)
 Prizes
2019
Everything is Fine, award by Bulgarian Fund for Women
2011
Essl Art Award CEE
Vienna Insurance Group Special Invitation
Residencies
2020                         Mutek AI Art Lab, Monreal
Gamma XR Art Lab, St Petersburg
2016                          CES ArtsLink Residency, ASU Art Museum, Tempe, Arizona
2014                          Identity.Move! Project, artistic residency in Athens
2012                          Derida Dance Center Residency, Sofia
2011                           Orientational workshop at STEIM, Amsterdam
Education
2008-2010
MA programme Digital Arts, thesis project "FallControl", National Academy of Arts, Sofia
March-May 2007
Academy of Fine Arts, Macerata, Italy, programme Erasmus
2003-2008
MA programme Restoration, thesis project "Restoration of fresco fragment", National Academy of Arts, Sofia